LOCKED in the dressing room for 40 minutes at The Den whilst his defeated players endured a catalogue of home truths from a furious manager was entirely predictable.

But maybe that's part of the problem. Having squeezed the absolute maximum out of those who had for the most part plied their trade in the lower leagues, has Chris Wilder's Sheffield United lost that element of surprise?
There is absolutely no reason to panic, no knee-jerk reaction needed as most seasoned Blades appreciate. But the mantra 'look how far we've come' is beginning to wear thin for a manager who knows that an even bigger prize is well within reach. Providing, of course, those who play for him and those who employ him genuinely realise it and do their jobs accordingly.
"I told the players what to expect when we came here and, possibly, they had their headphones on when I was speaking," said Wilder who accused them of abandoning his work ethic. "Players have got to liven up in there because I'm really disappointed. That performance is not what my team is about. 'Unacceptable' is quite a harsh word to use but I'm not far off it."
He added: "I don't enjoy seeing my team chucking its arms up in the air, having a moan and a groan and possibly getting ahead of itself. It hasn't happened a lot since I've been here but that wasn't enjoyable for our supporters." Remarks possibly aimed at David Brooks who was booked for diving. But the 20-year-old Wales international was man enough to admit: "When you haven't been good enough and you get told you've got to step it up for the next game. We're all grown-ups."
Having seriously out-performed what many thought they were capable of to last month top the Championship table for the second time and along the way establish themselves as credible promotion contenders, the Blades, now fourth, have propelled themselves into the higher echelon of a brave new world, catching many unawares. A place where quality is the telling difference between those who stay the course or falter and become also-rans.
Co-owner Kevin McCabe pledged earlier this season that United would return to the Premiership within five years. As this website commented at the time 'has anyone told that to the manager?'. True, performances since then have exceeded almost everyone's wildest (no pun intended) expectation except possibly for one man. Mid-table consolidation was only ever going to be second best for Wilder. And, as his managerial record to date suggests, he doesn't do second best.
In short, as he hinted respectfully before the season kicked off, is the club about to reap what it sowed by failing to match the manager's ambition in the summer recruitment budget? Or will co-owners Kevin McCabe and Prince Abdullah bin Mosaad bin Abdulaziz Al Saud wake-up to the real possibility of what Wilder believes he can achieve when the window reopens in January?
Money and the quality it can buy is not a single answer. But coupled with what the manager has already brought to the table it's a potent weapon. Wilder only last week acknowledged he needs to sign four players of real calibre to continue a serious promotion bid. "That's not to chuck the owners in front of the bus," he added, perhaps mischievously. It suggests he has probably gone almost as far as he can with what is available to him.
If United are to make the step up, investment, dare I say of the infamous 'game-changing' kind, is needed. Not the 'let's buy a few promising guys from League One and turn them into diamonds" approach. Not unless, of course, you're happy to accept the strong possibility of being an also-ran. United have reportedly had a renewed bid rejected for Southend United's 25-year-old midfield man Ryan Leonard, a target last summer. Surely in light of this season's progress and the recently admitted goal of being in the Premier League next season, the bar needs to be raised much higher.
ABSOLUTE FAITH
And why not. McCabe and Prince Abdullah surely have absolute faith in the manager to spend wisely. If they expect him to continue pulling rabbits out of hats on a shoe-string budget they will shortly collide with a reality check of the sort the squad is experiencing now.
Worse case scenario? Come the end of the season it could escalate into Sheffield-born Wilder, the club's prized asset, being prized away. Yes, he's a perfect fit at the Lane and as fan, ballboy, player and now manager living a dream. But Wilder's no fool either.
Having already emerged as one of football's hot properties West Brom recently considered approaching him for the vacancy at The Hawthorns eventually filled by Alan Pardew. Sentiment will not get in the way of an opportunity to move to the Premier League. Of course he wants to do it with United but only if the owners' timeline of ambition tallies with his own.
From the perfect vantage point of the upper tier in the away end at Millwall it was plain to see that for a good deal of the 3-1 defeat United seriously under performed. And against a previously wounded Lions side that had gone six matches without a win and triumphed only twice in their last 10 league fixtures. The Londoners were gifted and grabbed the chance to look much better than their lowly position before kick-off, 19th, suggested.
Any team conceding five goals, as United did at home to Fulham at the beginning of this collapse in form, cannot reasonably expect to emerge with anything but defeat. Schoolboy defending lack of concentration and poor decision making were again major contributing factors to this latest loss. But unlike that 5-4 defeat at the Lane, without the encouraging fightback. The thrust, no doubt, of Wilder's tirade from within the bowels of The Den.
In parts, the last 15 minutes of the first half and the first 10 after the break in particular, United looked good. Almost business as usual. But more than an hour was peppered with individual mistakes, a pedestrian pace and an unfathomable reluctance to deliver what has stood them in good stead since the season kicked off.
In the opening half crosses flew across Millwall's box with no-one there to capitalise. Wilder described criticism of team selection as a reason for defeat as "garbage". On reflection however, at least his decision to drop striker Billy Sharp to the bench in favour of starting Brooks alongside Leon Clarke, must be regarded as an error.
Yes, Brooks scored United's equailser with a classy finish. But by his standards he was out-of-sorts. Ironic as this was only what is unquestionably their most talented player's fifth league start ((13 appearances as substitute). He also blotted his copybook, most certainly in Wilder's eyes, after indulging in theatrics to receive a yellow card. Brooks was operating out of position in a striker's role as he often finds himself. His pace, movement and sublime ball skills offers so much more from midfield so it is hard to understand why Sharp, who came on for midfielder John Lundstram in the 73rd minute when the Blades were 2-1 down, was sacrificed. The 31-year-old has top scored for the last two seasons, totalling 51, and has eight in this campaign.
But after Wilder's dressing room tirade Brooks was man enough to admit: "When you haven't been good enough and you get told you've got to step it up for the next game. We're all grown-ups in there." He clearly doesn't mind a striking role either. "I like playing with Leon," he said. "He knows where the back of the net is. Leon is definitely the senior partner, I listen to what he tells me."
Clarke scorer of nine goals in his previous four appearances and, strangely, made captain for the day in the absence of Sharp starting, provided anything but a skipper's role. On this occasion the Championship's 13-goal top scorer was anonymous throughout.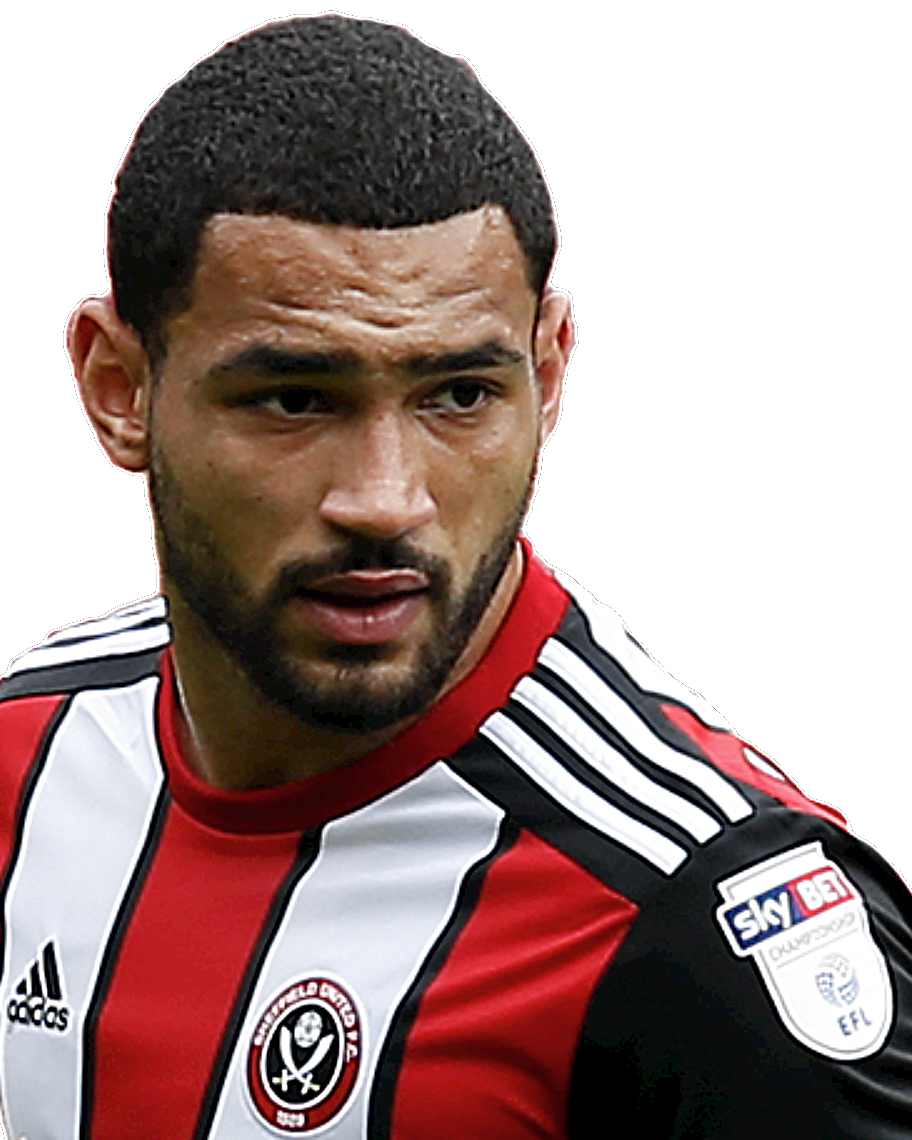 Defender Cameron Carter-Vickers has had a difficult time of late.
Richard Stearman, returning for the first time since a mid-August injury at Cardiff, looked rusty at the centre of a hesitant back three. Either side of him Jack O'Connell, uncharacteristically, and Cameron Carter-Vickers, pictured, were vulnerable as goalkeeper Jamal Blackman was left hopelessly exposed for all three goals conceded.
Given Carter-Vickers' recent errors it is surely time to drop the loanee from Tottenham, especially as the ultra-dependable Jake Wright was looking on from the bench.
Wilder's anger spared no-one. O'Connell, one of the stars under the manager's tenure, was publicly discredited after being caught in possession as he attempted one of his customary driving runs forward, resulting in Millwall regaining the lead. Lundstram remains a pale imitation for long term injury Paul Coutts. He nonetheless put in a shift. It was left to a tireless if frustrated John Fleck in the engine room to valiantly try and keep an ultimately sinking ship afloat.
Hard work, a game plan based on solid principles, seemingly inexhaustable work rate and a level-headed approach, has taken the Blades from the foot of League One where they were on their previous visit to Millwall, to the top end of the Championship in 15 breathless months.
Now one point gained from a possible nine, two defeats and nine goals conceded, has rattled United supporters. They're not used to it. What was standard fare for countless years at the Lane is no more.
It's the first significant turbulence encountered since August last year when Wilder's revolution began with just a single point to show from four matches. Forty-two fixtures and total of 100 points later United won the title by a margin of 14 and returned to the Championship after a six-year absence.
PRESSURE
The upcoming visit of Bristol City who pushed the Blades into fourth on goals scored after beating Middlesbrough at Ashton Gate, increases the pressure on for United to step up, meet the challenge and return to their accustomed selves. Especially with a trip to resurgent Aston Villa on the horizon before the Christmas schedule. What happens between now and January is so important to the manager's expectation of his employers for the future.
"We've got to make sure we arrest this," said Wilder. "One point in nine is not good going. I'm not bothered about 'haven't we done well.' I'm here to drive it on and win football matches. I'm sure we'll see a reaction. I don't want us to play pretty football, I want us to be effective."
If The Den marked a turning point of one kind last season, in context and with even loftier ambition, supporters must hope that it does so again. But this time for Messrs McCabe and his partner, now active apparently as chairman of the Board.
Whatever the outcome United are in safe hands and Wilder will keep them on an even keel at the very least. To have a good chance of reaching the next level, however, he doesn't need divine intervention, just helping hands from upstairs.