BILLY SHARP believes maintaining discipline will be a major contributing factor if Sheffield United are to leave Hillsborough with a satisfactory outcome.
Wise words from the 31-year-old team captain. Steel City derbies are not for the faint-hearted. Always super-charged occasions fuelled by raw emotion pulsing from the stands.
So as Sharp points out remaining level-headed is key when tackles come flying in and the wind-up merchants are at work – for both sides. Blades fans will be more than happy if Sheffield Wednesday's composure slips by the wayside in pursuit of personal vendetta and score settling.
"Whatever 11 is selected they know what it means to each club," said Sharp whose physicality is part of his game, as is occasional, good-natured interaction with opposing fans. But, importantly, he's mature enough to know where the boundaries lie.
"You work on things that you've been working on all season and what your team's good at but when the game comes there are other issues and situations you are going to have to deal with; big crowd a lot of noise, we might not be able to hear each other as well. Discipline's going to be a big one."
Discipline, however, has been found wanting of late in some quarters at Bramall Lane. Losing your head is often interpreted as a badge of honour, a commitment to the cause. In the cold light of day it is more often a case of straying from the plan for purely erratic reasons and letting the side down.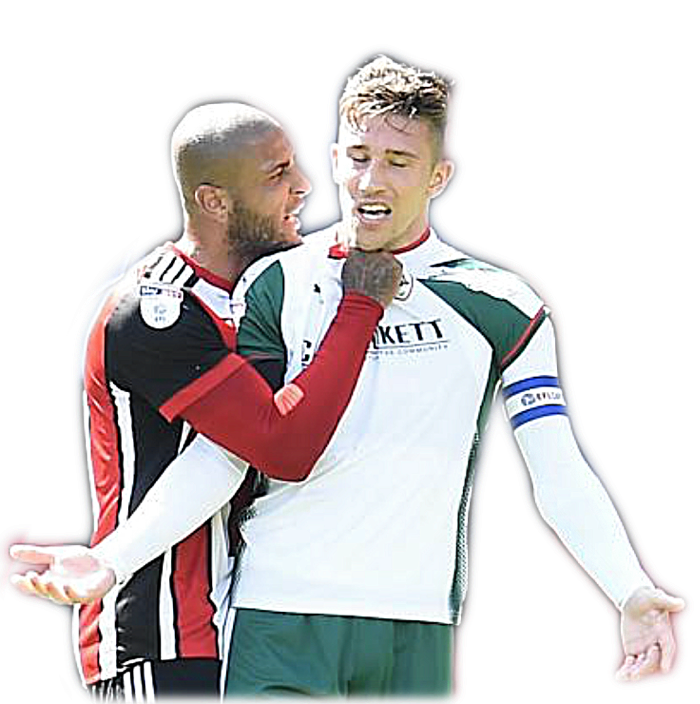 Leon Clarke gets to grips with Barnsley skipper Angus MacDonald. Both were dismissed.
Take striker Leon Clarke for example. Despite 14 years of experience in the professional game the 32-year-old still saw fit to become needlessly involved with Barnsley skipper Angus MacDonald, pictured, grabbing him by the throat as the two clashed on the edge of the Tykes penalty area. MacDonald reacted. Result? Red cards for both and three-match suspensions.
United boss Chris Wilder chose not to appeal the dismissal but backed his player, claiming that Clarke was provoked. Barnsley manager Paul Heckingbottom saw it differently as did I and many others around me. "They were both sendings off," he said. "Leon had Angus by the throat and Angus did try to pull away to start but Leon kept hold of his throat and Angus reacted. I have seen him (MacDonald) shove his head in his face. I am definitely disappointed with Angus."
Measured aggression is part of the game but Clarke let the side down by ruling himself out for United's next three fixtures for what amounted to 'handbags'. United were reduced to ten men, as were Barnsley, thankfully, for the entire second half in 1-0 home win.
"Maybe Leon should have walked away but it's pretty difficult to do that if someone chucks a punch at you," said Wilder. "He's a physical player, Leon, and he was playing on the edge." A strange comment as at no time did either man throw a punch and Clarke in any case was the instigator.
Hopefully the manager's public support was not replicated in private. Should Clarke be deemed fit enough to face his former club at Hillsborough, however, no prizes for guessing how Wednesday defenders will go about policing the striker. He's an easy target.
CHINK
Wilder has at last demonstrated a chink in his own armour during a 1-0 home defeat against Norwich, his side's first at the Lane since January. It halted a run of four straight wins. The Canaries time-wasting tactics and Oscar nomination bids frustrated fans, players and manager alike in the second half as United searched for an equaliser.
Wilder was sent to the South Stand after taking it upon himself to barge into the opposition's technical area and retrieve the ball, booting it towards the pitch and in doing so sending a couple of water bottles flying.
His out-of-character actions demonstrated he'd clearly lost it and was making a mountain out of a molehill but it didn't stop there. In an uncomfotable Press conference with the print media the manager went to excruciating lengths to blame the driver of the Norwich team bus for not doing his job properly. Including reminding everyone the road numbers between Sheffield and Norwich. Traffic delays had held up arrival from their hotel. That was followed by claims [because of the transport delay] Norwich manager Daniel Farke showed him disrespect by not handing his team sheet in on time, instead, apparently, asking – "a woman", said Wilder – from the club to do the honours.
Then the Blades manager complained that Norwich's late return for the second half, making United wait on the pitch, something that even the crowd ignored, amounted to another show of disrespect and gamesmanship.
None of these factors, of course, were responsible for the Blades defeat and Wilder's rant has since been the subject of much joy in Norfolk. Time-wasting was an issue and as Wilder pointed out a disruption to the game's flow, but he only added to it. Referee Scott Duncan was forced to delay even longer to deal with Wilder's protests before dismissal.
If the manager, or any manager's presence on the touchline is that important, which is debatable, then United were needlessly disadvantaged in their hour of need. Wilder's actions also risked him being forced to sit in the main stand at Hillsborough. And for what? More 'handbags'. Luckily the referee's report didn't lead to the FA taking disciplinary action.
The real concern for the manager was surely United's passive defending which allowed Yanic Wildschut to give Norwich a soft 23rd-minute lead. Or the fact that an injury crisis meant a player who hasn't been remotely fit since the day he rejoined the club in the summer, spearheaded the attack. It isn't as if United hadn't been warned. His former boss at Chesterfield, Gary Caldwell, sacked at the weekend, made public concerns about the striker's lack of fitness last season.
OPERATION
The 28-year-old volunteered to play through the pain barrier for his first league start and joined exceptionally talented midfield youngster David Brooks in a forced experimental front line. It was never going to work given Evans' physical state, although he did manage to supply a couple of penetrating crosses after the break. Wilder reaffirmed afterwards that the Welshman, who needs an operation on an ankle, is only "50 to 60 per cent fit."
Given the opportunity United had to top the Championship table, is it not beginning to call into the question the wisdom, if not the motive, of resigning struggling Evans in the first place? That the Blades instead dropped three places to sixth is of little concern at this stage of the season. Looking ahead and under similar circumstances it could be crucial.
It's not clear what the injuries are that ruled out Sharp and Clarke, who had only just completed his suspension. Again, another striker whose fitness record at the Lane is questionable. With Caolan Lavery recovering from a fractured cheekbone, new signing Clayton Donaldson (hamstring) and James Hansen still suffering form a long-standing hamstring problem, it remains conceivable Evans will be used at Hillsborough. If so, a cruel outcome for a lame duck who will inevitably face a torrent of abuse from Wednesday fans.
Regrettably, off the field we have seen brief outbreaks of violence by those who have no right to call themselves football supporters. They are certainly not wanted by the club or the vast majority of those who pass through the turnstiles at the Lane.
Mercifully we are talking of a very small minority. Those who fought with Middlesbrough supporters on Teesside and the morons who targeted Norwich goalkeeper Angus Gunn with a bottle and other objects. The 21-year-old son of former Canary keeper and manager Bryan, on loan from Manchester City, was one of he protagonists that so infuriated the Blades. He needed little encouragement to waste time and was aided twice, gleefully beckoning the referee's attention as he picked up objects thrown from the Kop.
ATTACKED
Much worse, a number of Norwich supporters were attacked as they left the ground. A 55-year-old was beaten and later hospitalised, needing a steel plate and a screw fitted to his broken jaw.
Two United supporters were arrested and charged in connection with an incident outside the stadium. Both have had their season tickets for the Kop annulled and been banned for life.
A statement issued by the United said: "We are working with the police in coordinating a root and branch approach to identify those supporters who are tarnishing the name of Sheffield United and putting football in a very poor light."
The vast majority of United fans would never condone such behaviour. It is supporters themselves who set the tone, not the authorities. Hence some clubs harbour a bad reputation. The bulk of Unitedites are widely regarded as loyal, fair and friendly.
Likewise discipline within the club comes from the top. Recent events have served as a timely reminder as United face their biggest test of character for some time.